Piss On Pity: Disabled artists on charity
Event details
Exhibition
25.09.2019 - 05.10.2019
Artwalk Wakefield night
25th Sept 17:00-21:00
25 Sept – Sat 5 Oct
11:00 – 17:00
(Closed Sunday)
Organiser details
Gill Crawshaw
Venue details
The Ridings Shopping Centre, Wakefield, WF1 1DS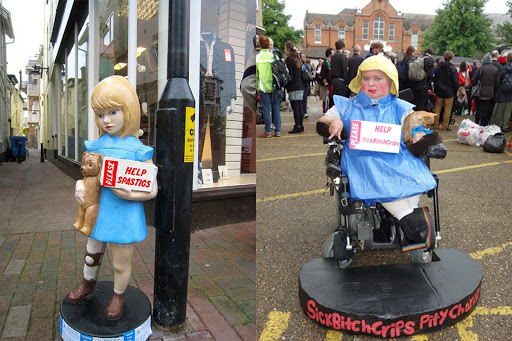 Additional venue info: Ridings Shopping Centre, Unit 63, Middle Mall
Charity has long been a looming presence in the lives of disabled people - and not always a welcome one. This exhibition shows disabled artists challenging the widespread idea that charity is a force wholly for good. With humour, intelligence and confrontation, these artists reflect the demand for 'Justice Not Charity' that is the foundation of the disabled people's movement. 
Disabled people called for 'Rights Not Charity' during anti-charity demonstrations in the 1980s and 1990s. The slogan 'Piss on Pity' expressed their anger at how charities portrayed disabled people as needy, tragic victims and at the charities' claims to represent disabled people.
The demand for rights is more urgent now than ever. Disabled people are fighting a sustained attack on their lives and dignity under the government's austerity programme, with cuts to public services and welfare benefits. The last resort for many, charities are inadequate in the face of this assault.
Piss On Pity coincides with the showing of Charity, a sculpture by Damien Hirst, at Yorkshire Sculpture Park. This exhibition takes the opportunity to show how disabled artists have addressed this issue and continue to do so, as part of the disability rights movement.
In memory of Katherine Araniello.
Thanks to The Art House and NDACA, the National Disability Arts Collection and Archive.
Access information:
Shop units and walkways are level or gently sloping throughout the Ridings.
The nearest entrances to this exhibition are on Almshouse Lane or Kirkgate, which are on the same mall level, but you can also reach us via other entrances or the car park, as there are lifts and escalators between floors.
Toilets, including accessible toilets: https://www.ridingscentre.com/toilets/
Shopmobility scooters: https://www.ridingscentre.com/shopmobility/
Further information: https://www.ridingscentre.com/